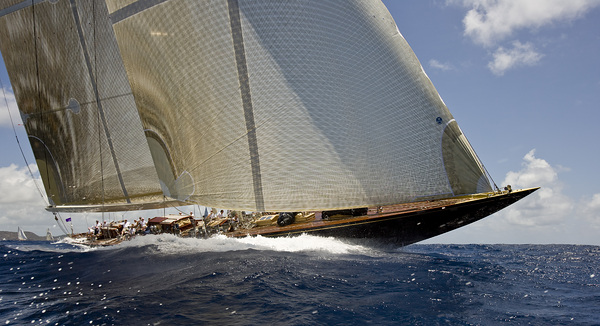 Velsheda © Onne van der Wal
Designed by Charles Nicholson and built by Camper & Nicholson in 1933 for Mr W.L. Stephenson, Owner of Woolworth chain of shops, she was built in 1933 at Gosport. She was Nicholson's second design for a J Class and Stephenson's second big yacht. "Velsheda" was named after Stephenson's three daughters, Velma, Sheila and Daphne. Stephenson never planned to compete for the America's Cup but rather her raced with the greatest names in classic yachting including "Britannia", "Endeavour" and "Shamrock" between 1933 and 1936.In her second season she won more than 40 races and achieved an outstanding record of success at Regattas from Southend to Dartmouth. Other venues included Torbay, Swanage and the Solent, all under the control of the famous Captain Mountifield.In her day – around the late 1930's, she represented the most advanced technical design for spars, rigging, sails, deck gear and ropes. Her masts were aluminium, made by bending plates and riveting them together. Sails were made from the new Terylene threads and deck gear now included winches for easier handling of sheets. The standing rigging in the 30s was solid rod.Below decks accommodation was limited to just the main saloon, owners quarters aft, and storage for sails and equipment forward.By 1937 she was laid up in a mud berth on the Hamble and became derelict. Many sailors remember visiting her – one recalls sailing in the annual Warming Pan race at Hamble River Sailing Club, and all the visiting crew being taken up the river to their overnight accommodation – Velsheda!This unique yacht was rescued in 1984 by Terry Brabant, who economically refitted her for charter work with a new steel mast and limited interior. Still without an engine she sailed regularly along the UK South Coast on charter and occasionally ventured to the Mediterranean and Caribbean.
1998 – won Antigua Classic Regatta
2001- competed at J Class Regatta, Solent against Shamrock V and Endeavour
2001 – competed in the America's Cup Jubilee Regatta in the Solent.
2002-2012 – competed each year at the Maxi yacht regatta, Sardinia and les Voiles de St Tropez, France, and crossed the Atlantic twice each year to compete in Antigua Classics.
2010 – won her class in Round the Island race, Isle of Wight, UK
2012 – competed at the J Class Falmouth Regatta.2012 – won the J Class Solent Regatta and competed in 100 Guinea Cup race around the Isle of Wight. Velsheda's owner took the King's Corinthian Cup, awarded to the best yacht with an amateur helm at the four day Event.
2013 – competed at St Barths Bucket
2013 – competed at Superyacht Cup, Palma
2013 – won three races and J Class overall at Maxi Rolex Cup, Porto Cervo
2013 – won two races and J Class overall at Les Voiles de St Tropez
2014 – competed at Superyacht Cup, Palma
2014 – competed at Maxi Rolex Cup, Porto Cervo
2014 – competed at Les Voiles de St Tropez
2015 – competed in Falmouth J Class Regatta, winning the King's Hundred Guinea Cup
2015 – Won the Royal Yacht Squadron Bicentenary International Regatta
2016 – competed in the St Barths Bucket regatta
2016 – competed in the Maxi Yacht Rolex Cup
2016 – competed and won the J Class in Les Voiles de St Tropez
2017 – competed in St Barths Bucket and won the Kings Hundred Guinea Cup
2017 – competed in the America's Cup Superyacht Regatta
2017 – competed in the America's Cup J Class Regatta
2017 – competed in the J Class World Championship, Newport RI
'Velsheda' was purchased in 1996 as a bare hull lying at mooring in Portsmouth Harbour, and was taken to Southampton Yacht Services, on the River Itchen where a two year comprehensive rebuild was completed to bring her back into immaculate racing condition. She was fitted with the tallest one piece carbon mast in the world and a comprehensive suit of racing sails were produced, developed from wind tunnel testing at Southampton University. She was re-launched in November 1997. Dykstra Naval Architects were employed for the refit and also of other J Class yachts in the current racing field, including "Shamrock V", "Endeavour" and "Ranger".